Kari L. Lavalli, Ph.D. Bio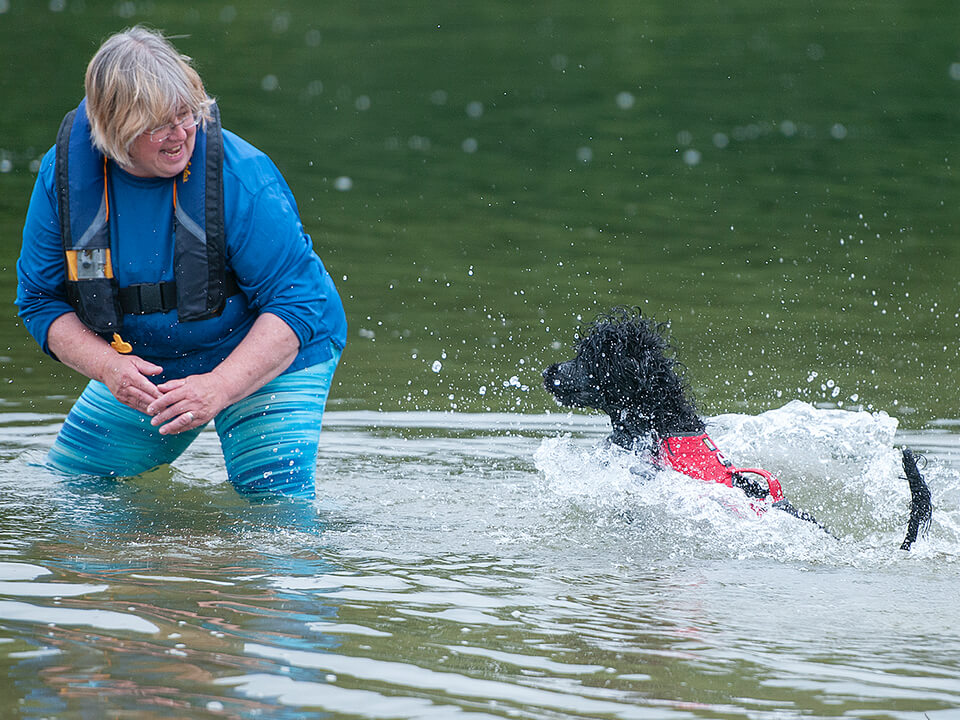 While Kari has owned a number of dogs since her teenage years (Doberman, Siberian Huskies, Border Collie), it wasn't until 2007 that she got her first competition Portuguese Water Dog, named Asta. She co-owned Asta with her breeder and titled her in venues ranging from obedience and rally to tricks to scentwork and some low-level agility. Her breeder and Kari then co-bred Asta from 2009 to 2014. Kari kept one of Asta's first male puppies, Darwin. For nearly a decade, Darwin became her major training partner, earning titles in obedience, rally, agility, tracking, scentwork, tricks, and water. He retired in 2020 after earning a Gold Register of Merit and a Multiple Achievement Certificate Level 6 (representing 37 titles from a minimum of 3 different venues) from the Portuguese Water Dog Club of America (PWDCA). Kari also kept Asta's last puppy, a singleton named Beleza, and she currently competes in agility, obedience, and water and is being trained in tracking and scentwork. She has also earned a Multiple Achievement Certificate Level 3 from the PWDA.
In 2013, Kari adopted a 3.5 yr old border collie, named Uta, and was introduced to the world of training a leash- and child-reactive dog via counter-conditioning techniques.  Uta has gone on to earn obedience, rally, nosework, and tricks titles, and can compete in some agility formats. In 2018, Kari and her husband started breeding PWDs under the Topsail kennel name. They kept a puppy from their first litter, Scully, who is training mostly in agility and water, but also dabbling in tricks, obedience, rally, and scentwork. This dog has just recently qualified for a Multiple Achievement Certificate Level 1 through the PWDCA.
Kari has trained under a number of area obedience and agility instructors and has attended numerous agility and tracking seminars as well as water training seminars by Canine Water Sports and area PWD clubs, and several obedience and canine conditioning seminars.  She has also taken three "chicken" workshops where she learned to up her training skills and timing using classical operant training on a not-overly forgiving animal! She has taught beginner's water clinics in the summer on Cape Cod for the Mayflower Portuguese Water Dog Club and has served on that club's board of directors from 2010 to 2015.  She is currently an officer on the board of directors of the Tracking Club of Massachusetts.  She is a CGC evaluator and has taught novice and advanced tricks classes as well as CGC prep and basic manners classes at Performance Plus K0 Activity Center in Raynham.  She has also written articles on trick training for the PWDCA magazine "The Courier." All of her dogs are titled in both tricks (advanced and performer levels) and CGC.
She believes strongly in using training strategies that build the relationship between dog and owner, such that owners can more thoroughly enjoy and understand their dog's behavior and personality, and can provide for the mental and physical well-being of their canine companions.