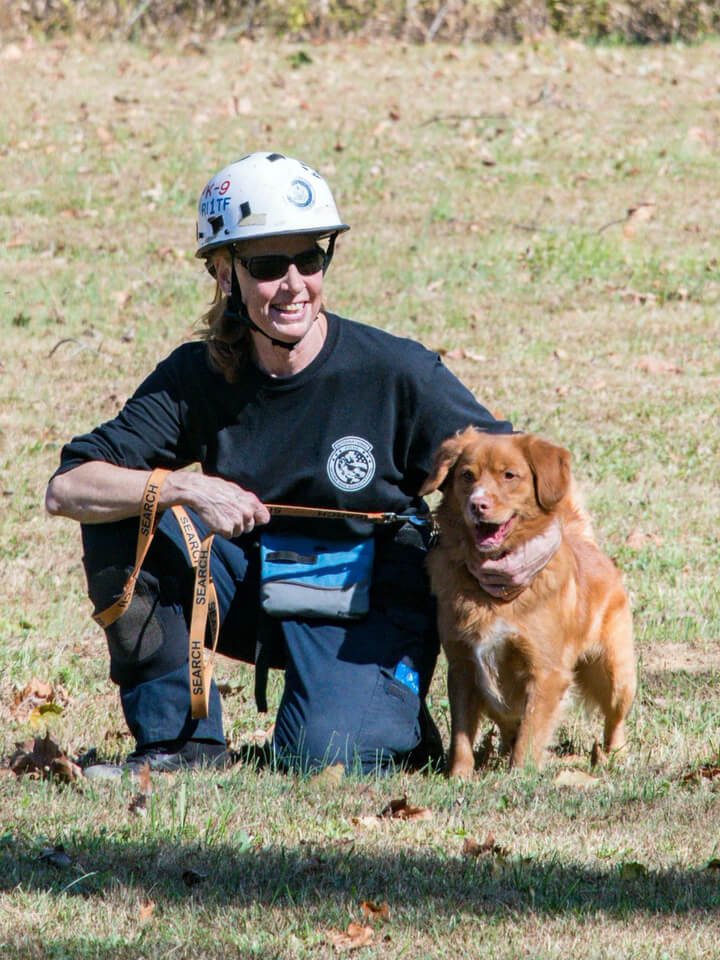 Jennifer P. Anderson (Jen) is the principal of River Horse Consulting, LLC, a canine training company and is an animal trainer and teacher with 30+ years of experience in canine, equine, avian (raptor) and small animal training and rehabilitation. Jennifer has an UG degree SUNY New Paltz in Physical and Applied Geography with Minors in Chemistry/Botany and a Master's in Environmental and Community Planning from the URI. A Spring 2013 graduate of the FBI New Haven Division Civilian Academy she has continued study in Forensics and Forensic Anthropology and integrates these disciplines into her application of the chemical and physical properties of scent theory, meterology, topography and human and animal behavior.
Jen is a 2006 certified canine search specialist with the State of Rhode Island Search and Rescue Team task forces and member of the Rhode Island Canine Search and Rescue team (RICSAR), a Canine SAR team. She has certified and deployed with 6 canine partners since 2000 and currently works with her canine partners and family members, Ryder, Finn, and her newest recruit Bellamy—all Nova Scotia Duck Tolling Retrievers. Jen's working partners are also CGC and Therapy certified. Jen is an Urban Rubble and Wilderness Instructor with the International Police Work Dog Association (IPWDA); National Search and Rescue Association (NASAR) Tracker I, SARTECH II and National Ski Patrol I and II certified deployable technician.
Her prior work as an Animal control officer in Adirondack Park, New York and Orange County New York, an assistant New York animal shelter manager, New York State Veterinary Technician, Certified Wildlife Rehabilitator and Red Cross Multi course Instructor and Red Cross Human Shelter Manager have all fostered her desire to work with canines and their owners/handlers to improve communication and physical skills and build strong foundational relationships. In 2015, she was recruited as an Instructor for Veterinary Tactical Group (VTG) Fayetteville, NC and has taught at their seminars for Law enforcement, military and civilian working Canine handlers addressing tactical critical veterinary care. Her public/private training programs include: AKC CGC, Star Puppy and tracking /trailing, AKC Scent Work, ATT and Farm Dog Judge; scent discrimination and nose work craft, Core Fitness work, obedience in drive, agility, shaped tasks (service oriented animals), isolation and reduction/removal of undesirable behaviors (biting, destruction of property) and search and rescue.
Jen employs a diverse cross section of animal and human educational skillsets crafting unique training programs to focus on each team's individual chemistry, physical needs of the desired training task and the building blocks of skills needs to reach an objective. Above all, Jen is all about making sure each and every training is refreshing and rewarding for all of the participants. If it's not fun—it's not getting done!
AKC Scent Work Judge License # 103461 .
IPWDA SAR Instructor # 1822 (Wilderness Search, Cadaver – Disaster) www.ipwda.org .
NASAR SARTECH II and National Ski Patrol Mt Rescue 1 & 2 Certified # 212400 .
RICSAR – RI Task Force 2, www.ricsar.org Secretary and Live Find/Wilderness/ Disaster Training Officer . APDT Member# 80180 .
Veterinary Tactical Group (VTG) Assistant Instructor .
AKC CGC , Community Canine and S.T.A.R. Puppy Evaluator #89743, ATT and Farm Dog Judge .
Forensic Field Recovery L2